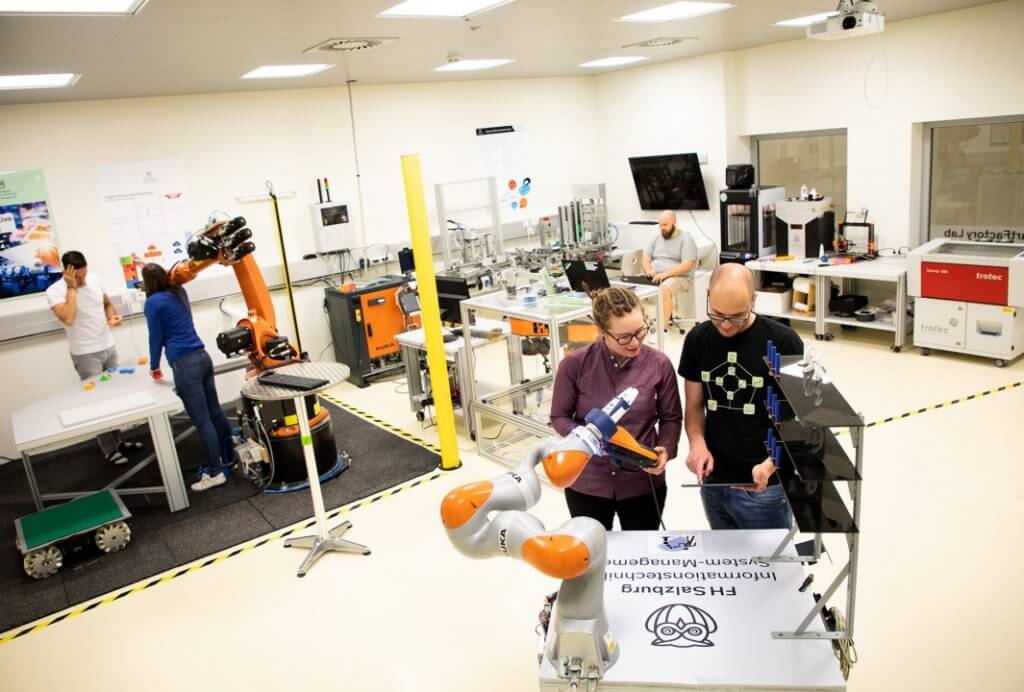 The following are the major research areas in Salzburg:
Networks and Security
Reliable and secure networks are the foundation of digitalisation and the Internet of Things. Salzburg Research Forschungsgesellschaft, in cooperation with the Information Technology and Systems Management program at FH Salzburg, works on the planning, development, and monitoring of reliable IP networks. This includes the analysis of large data streams, such as those important for multimedia applications, as well as topics like real-time capability. Researchers at the Center for Secure Energy Informatics at FH Salzburg focus on security aspects, not only in the development of smart grids but also in protecting them against hackers. FH Salzburg further deepens its expertise in these areas with two Josef Ressel Centers: the Josef Ressel Center for Intelligent and Secure Industrial Automation focuses on secure digital assistants for industrial machines, while the Josef Ressel Centre for Dependable System-of-Systems Engineering develops model-based methods for reliable operation of complex systems such as Industry 4.0 and smart grids.
Human-Computer Interaction
When humans interact with computer-controlled systems, several aspects need to be considered: usability, the system's ability to provide assistance rather than burden, and user acceptance. The Artificial Intelligence and Human Interfaces department at the University of Salzburg addresses various issues related to effective human-computer cooperation. The joint Master's program in Human-Computer Interaction offered by the University of Salzburg and the Salzburg University of Applied Sciences combines principles from computer science, design, and psychology. Digibus Austria, led by Salzburg Research, focuses on the interaction between automated vehicles and passengers.
Data Science and Artificial Intelligence
Data is the treasure of the 21st century. With increasing digitalization, more and more data is generated, but much of it remains untapped. Data science is the discipline that aims to make this data usable and create value from it by combining expertise and methods from statistics, computer science, and data analysis. In 2016, the University of Salzburg introduced the first Austrian Master's program in Data Science to meet the high demand for data scientists in the business sector. Data forms the basis of artificial intelligence, which already permeates various aspects of our lives, such as product recommendations in online shops, navigation systems in cars, and digital voice assistants. The Lab for Intelligent Data Analytics Salzburg (IDA Lab), a collaboration between researchers from the University of Salzburg, Paracelsus Medical University, Salzburg Research, and the Salzburg University of Applied Sciences, works with companies to solve real-world data science challenges and bring data science knowledge into the Salzburg economy.
Location-Based Data
Location-based data enables a wide range of applications, including resource planning, incident localization, location-based services (e.g., weather information or points of interest), spatial planning, and targeted advertising, among others. Geoinformatics plays a significant role in Salzburg with the renowned Center for Geoinformatics (Z_GIS) and the Research Studio iSPACE. Both institutions collaborate with companies on their respective research topics. The Christian Doppler Laboratory gEOhum utilizes satellite data to support humanitarian missions of Doctors Without Borders and simplify their planning processes. The 5G Mobis project at the Research Studio iSPACE investigates how 5G data can be utilized for traffic control, spatial planning, and mobility.
Smart living: health and sport
On the Salzburg research scene, there is also a focus on using digital solutions to support healthy living and prevent illness. For example, the Ludwig Boltzmann Institute for Digital Health and Prevention is dedicated to preventing and treating cardiovascular diseases. In addition, Salzburg Research is looking into the best ways to combine motion – including in sports – with digital information.
Hands-on digitalisation
The Pioniergarage Salzburg is an open workshop where individuals can bring their own ideas to life using tools such as a laser cutter, 3D printer, CNC milling machine, cutting plotter, and electronics. Startups can develop prototypes, young architects can create models, and the creative designs of designers and hobbyists can be realized here.
The Smart Factory Lab at FH Salzburg is a research and knowledge transfer center for intelligent production. It focuses on digital twins, collaborative robotics, and flexible, cloud-based production. Equipped with both traditional and state-of-the-art production machines connected with sensors, intelligent data architecture, and cloud applications, the Smart Factory Lab serves as a playground for researchers, students, and companies.
In the DO!LAB, the first maker space in Pinzgau, inspiration, creative exchange, and mental freedom are of utmost importance. It provides access to 3D printers, CNC milling machines, vinyl cutters, heat presses, sewing machines, various tools, and electronic devices.
Multimedia Technology
Computer-generated images, virtual reality, helpful apps, games, and simulations – they all represent the multimedia world constructed using the latest technology. This field approaches it from an artistic and/or user-oriented perspective. The research conducted by the MultiMediaTechnology program at FH Salzburg combines complex information from the web (e.g., social networks, purchasing interests, media usage, etc.), game and simulation (e.g., player behavior, emotions, swarm behavior, etc.), and mobile (e.g., usage patterns, motion data, etc.) domains and presents it in a multimedia format. Collaboration with the artistic and design-focused MultiMediaArt program at FH Salzburg is common in various research areas.