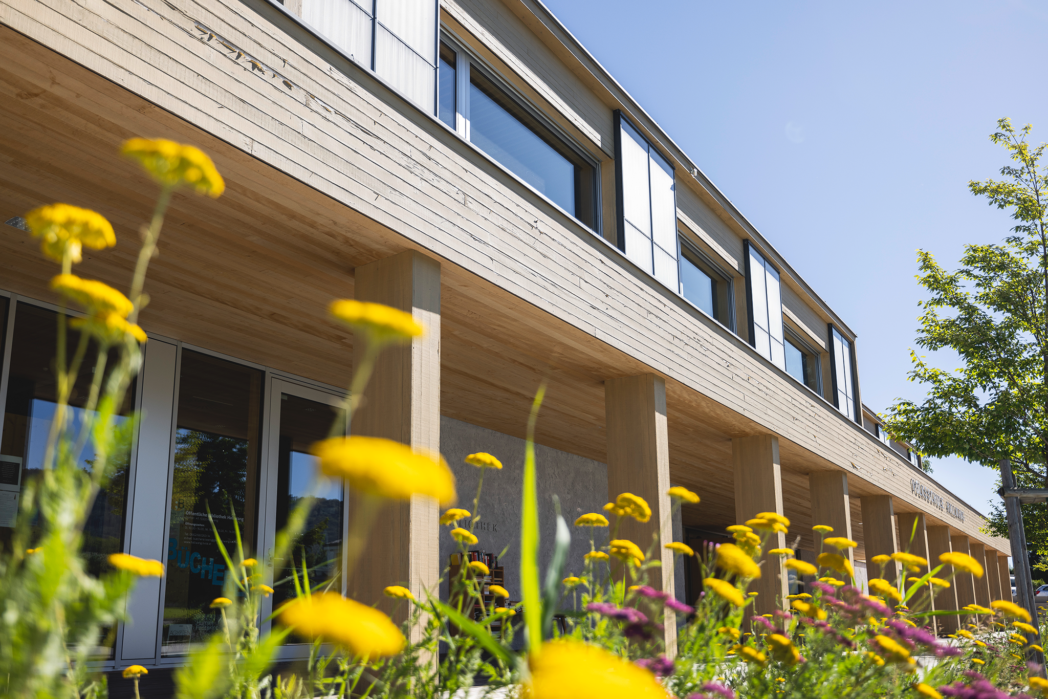 Salzburg's contribution to a better future
Smart solutions for the green transformation are being developed in areas such as environmental technology, digitalisation (e.g. sustainable and smart mobility, energy and settlement systems) and green engineering (innovative products, processes and raw materials).
Forestry & timber industry
As the leading wood construction area in the Alpine region, Salzburg has a highly specialised forestry and timber industry. 52 % of the state of Salzburg is forested. 1,200 commercial enterprises combine state-of-the-art forestry and timber construction and achieve an export rate of 70 % with forestry and sawn products, modern timber construction systems, panel production, interior fittings and furniture making. With the pulp mill in Hallein and the world's largest wood-based bioethanol plant, the future in terms of timber, bio-economy and the circular economy can also be found in Salzburg. Salzburg's strong construction sector is second to none, with Salzburg leading the way in the fields of component activation, hybrid construction and upcycling of buildings and their construction materials.
Smart materials
The Center for Smart Materials of the University of Salzburg and Salzburg University of Applied Sciences is concerned with finding new applications for biogenic materials, such as foams or aerogels, with a focus on resource-conserving and sustainable (chemical) processes. There is great demand for these in such areas as lightweight construction, energy storage, thermal insulation and soundproofing. Attention is also focused on how surfaces and interfaces can be equipped with functions modelled on nature, in order to react to certain environmental influences, for example.
Timber Research
At Salzburg University of Applied Sciences, there is a major focus on the further development and optimisation of wood materials and wood-based biochemistry, as well as on wood technology and timber construction. This includes projects concerned not only with the quality of wood, but also with how it is processed and treated. Among other things, the properties of wood materials and types of wood are examined, with the aim of finding new possibilities and applications for them and for less researched types.
Research activities include:
Combining different materials (e.g. leather fibre and wood fibre combinations)
Examining new composite materials
Developing, qualifying and testing new thermal insulation materials based on renewable raw materials (e.g. tannin-based foams)
Developing and researching innovative material functions (e.g. multifunctional surfaces)
Developing wood-based bioprocesses (e.g. reactors, organosolv, extraction purification)
Developing new ways to utilise recyclable materials (e.g. process wastewater in pulp and paper production)
Developing upcycling methods to recover and reuse wooden components
Building research
One of the main focuses of research in Salzburg is on how building and settlement systems can be made more sustainable. The necessary expertise for this is pooled at the Alpine Building Centre at Salzburg University of Applied Sciences and at the iSPACE research studio of Research Studios Austria. There is a particular focus here on smart energy systems, building shells and the simulation of settlement systems. Urban consolidation solutions and redevelopment projects are also important for ensuring sustainable use of space and preventing soil sealing. Another important contribution in this area is made by concrete recycling, which involves producing new concrete from old concrete recovered during building demolition. In Salzburg in particular, the Alpine Building Network brings together many players from the fields of research, planning and execution.
Education
The Holztechnikum Kuchl, located on Salzburg University of Applied Sciences' Kuchl campus, is a nationally and internationally renowned training centre for the Austrian sawmill and timber industry. All aspects of the timber industry, wood technology, biogenic technologies and timber construction are taught and studied there. A wide range of further education courses are also available. And with the Smart Building and Smart Buildings in Smart Cities courses, there is a focus on the buildings and cities of the future as well. The Design & Product Management programme with specialisation in EcoDesign teaches the skills required to translate theory into actual products.
At the University of Salzburg, the Faculty of Natural Sciences offers a wide range of courses, including Geography, Science and Technology of Materials, Applied Geoinformatics, Ecology and Evolution, as well as ones in various other life sciences and engineering subjects. Sustainability can also be studied as a major on courses in other faculties. Likewise, content relating to the 'Green Deal' and the circular economy is also covered in other disciplines, such as business studies at Salzburg University of Applied Sciences.
At almost all vocational schools in Salzburg, such as the higher technical colleges (HTL), engineering courses are offered in important areas such as construction technology, wood, interior design, mechatronics and mechanical engineering.