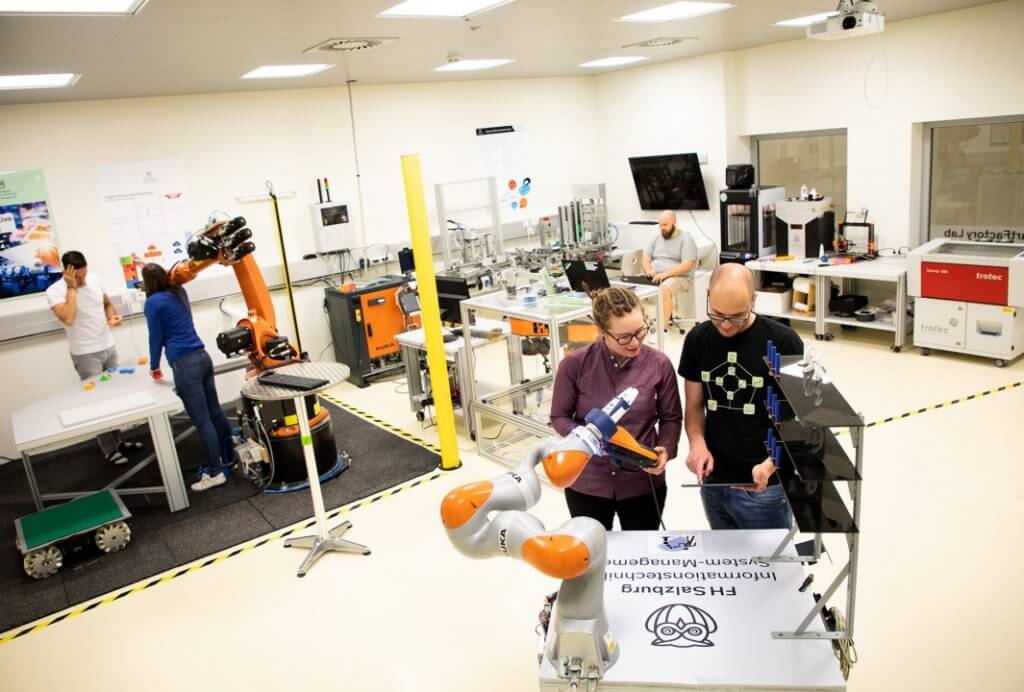 An essential aspect of research is also the transfer to the economy. Research centers, projects, and initiatives are working to expand the interface between science and business.
These are Salzburg's key research and transfer centers:
Digitalization
Josef Ressel Center for Intelligent and Secure Industrial Automation
The Josef Ressel Center for Intelligent and Secure Industrial Automation at FH Salzburg conducts research on the fundamentals of digital assistants for industrial machines that enable intelligent and secure operations. This assistant should be capable of relieving and supporting human operation by providing assistance in monitoring and controlling machines. The three research fields, OT Architecture, OT Intelligence, and OT Security, form the foundation for the digital assistant. The center was opened in the summer of 2022. Partners include the companies Copa-Data, B&R Industrial Automation, and SIGMATEK.
Center for Geoinformatics (Z_GIS)
The Center for Geoinformatics is an interdisciplinary competence center at the University of Salzburg. Z_GIS collaborates with academic and industrial partners to conduct research on geospatial issues in both fundamental and applied research.
Christian Doppler Laboratory gEOHum
Part of Z_GIS is the Christian Doppler Laboratory gEOHum (Earth Observation for Humanitarian Action). The laboratory, which was opened on July 8, 2020, investigates the extent to which satellite imagery and other Earth observation data can support humanitarian missions and collaborates with Médecins Sans Frontières (Doctors Without Borders). This marks the first collaboration between a Christian Doppler Laboratory and an NGO.
Geospatial information allows for better assessment of crisis areas and planning of relief efforts. The gEOHum team, led by Stefan Lang, utilizes this information to create real-time map representations. Artificial intelligence methods aid in the extraction, analysis, and processing of the data.
Center for Secure Energy Informatics
With the digital transformation of the energy sector, traditional energy grids are becoming intelligent (Smart Grids). Digitization creates interfaces with other areas such as electromobility and smart homes.
The Center for Secure Energy Informatics (ZSE), as the successor organization to the Josef Ressel Center for user-oriented Smart Grid Privacy, Security, and Control (2013 – 2017), collaborates with industry and research partners to research the digitization of future energy systems and their protection against external attacks and data misuse. The ZSE is based at Salzburg University of Applied Sciences. Research partners include Salzburg Research, Salzburg AG, Salzburg Wohnbau, successfactory consulting group, and Bosch.
Center for Dependable System-of-Systems Engineering
The Josef Ressel Centre at FH Salzburg conducts research on "Dependable System-of-Systems Engineering." In collaboration with industry partners, it explores methods for developing reliable cyber-physical systems, focusing on examples such as Smart Grid, Smart Cities, Automotive, and Industry 4.0. These cyber-physical systems, which combine hardware and software components, such as electric vehicles or Smart Grids, are critical components of the future, requiring reliable operation.
Center for Human Computer Interaction
The Center for Human-Computer Interaction in Salzburg focuses on the relationship between humans and computers or technologies. It conducts interdisciplinary research on various topics with the goal of understanding how technology can support individuals in their daily lives. The research encompasses not only the technological aspects but also psychology, sociology, design, and aesthetics.
COMET Center – Digital Motion in Sports, Fitness, and Well-being
Under the leadership of Salzburg Research, the interdisciplinary COMET project "Digital Motion in Sports, Fitness, and Well-being" aims to explore the emotional component of sports and understand user behavior, particularly among non-professionals. The ultimate goal is to create more enjoyment in physical activity by enhancing the user experience. The focus is on the quality of movements performed and the suitability of sports equipment.
COMET stands for Competence Centers for Excellent Technologies. The program supports the establishment of competence centers that engage in high-level research programs jointly defined by industry and academia. The Digital Motion competence center was launched in November 2018.
Digital Innovation Hub (DIH) West
Digital Innovation Hubs are competence networks that support SMEs in their digitalization efforts. They offer a wide range of continuing education opportunities. DIH West provides support and knowledge transfer to SMEs in western Austria.
DIH West collaborates with eight universities and research institutions, as well as Innovation Salzburg, Standortagentur Tirol, Wirtschafts-Standort Vorarlberg GmbH (WISTO), WK Tirol, and Industriellenvereinigung Tirol as digitalization partners. DIH West focuses on the manufacturing sector, tourism, and IT services.
IDA Lab – Intelligent Data Analytics Lab
The IDA Lab brings research in Data Science and Artificial Intelligence to Salzburg companies. It is a collaboration between the University of Salzburg (project lead), Paracelsus Medical University, Salzburg Research Forschungsgesellschaft, and University of Applied Sciences Salzburg. The lab is supported by the State of Salzburg as part of the Science and Innovation Strategy 2025 (WISS 2025).
The IDA Lab serves as the regional point of contact for research questions from the business and scientific communities. Together with industrial partners, the IDA Lab team works on data-related challenges in practical applications. The lab consists of seven teams with various areas of focus, such as machine learning, mobility, and biostatistics.
5G Measurement Lab
5G enables the use of wireless networks for safety-critical systems such as Industry 4.0, Smart Grids, or autonomous vehicles. For this purpose, the networks need to be reliable. In the 5G Measurement Lab (5G-MLab), Salzburg Research develops methods to measure the reliability of 5G through reference scenarios in the automotive and industrial sectors.
further research centers:
Life Sciences
Centre for Cognitive Neuroscience (CCNS)
The Center for Cognitive Neuroscience at the University of Salzburg investigates the connections between neural processes and human behavior. The CCNS is characterized by interdisciplinary research, with psychology, linguistics, biology, physics, and computer science at the University of Salzburg collaborating with neurologists from Paracelsus Medical University and clinical partners such as the Christian Doppler Clinic on fundamental research.
Ludwig Boltzmann Institute (LBI) for Digital Health and Prevention
At the LBI, the goal is to explore how cardiovascular patients can be supported in maintaining a healthier lifestyle through digital technologies. The institute, opened in 2019, is located at the University Institute of Sports Medicine at the University Hospital Salzburg. Research partners include the University and State Hospital Salzburg (SALK), Salzburg Research Forschungsgesellschaft, Salzburg University of Applied Sciences, the Austrian Institute of Technology, and Paris Lodron University Salzburg.
Cancer Cluster Salzburg
The Cancer Cluster Salzburg (CCS) brings together 16 expert groups in basic, translational, and clinical cancer research from the Salzburg Cancer Research Institute (SCRI), Paris Lodron University Salzburg (PLUS), and Salzburg University Hospitals (SALK).
CCS focuses on the interactions between cancer cells, their microenvironment, and the immune system to explore new cancer-causing mechanisms and develop innovative therapies with improved therapeutic efficacy.
further research centers:
Smart Building and Modern Settlement Systems
Alpine Building Center
The Alpine Building Center focuses on solutions for smart, connected buildings and the simulation of buildings in the context of settlements. Research focuses on smart energy systems, solutions for intelligent new construction, renovation and infill development, as well as innovative simulations for sustainable settlement systems. The Alpine Building Center is a collaboration between University of Applied Sciences Salzburg – Smart Building and Studio iSPACE of Research Studios Austria Forschungsgesellschaft mbH.
further centers:
Other Research and Transfer Centers
Salzburg Center for Smart Materials
The research activities at the Salzburg Center for Smart Materials aim to develop new adaptive and intelligent surfaces and interfaces based on biogenic resources, with a strong focus on the key material of Salzburg, wood. The center focuses on the exploration of the production, characterization, and application potential of these materials, as well as the structuring and functionality of surfaces and interfaces.
Partners include FH Salzburg with the Kuchl campus, the Department of Chemistry and Physics of Materials, and the Human Computer Interaction Center at the University of Salzburg.
Tourism Research
Tourism research at FH Salzburg focuses on various areas, including eTourism research, sustainability in tourism, innovation research, market and trend research, experience design, as well as strategy and organizational development. In 2015, the "eTourism Lab" was additionally established to investigate the use of information and communication technologies throughout the entire value chain of the tourism and leisure industry.
further research centers:
University Institutions:
This might also interest you