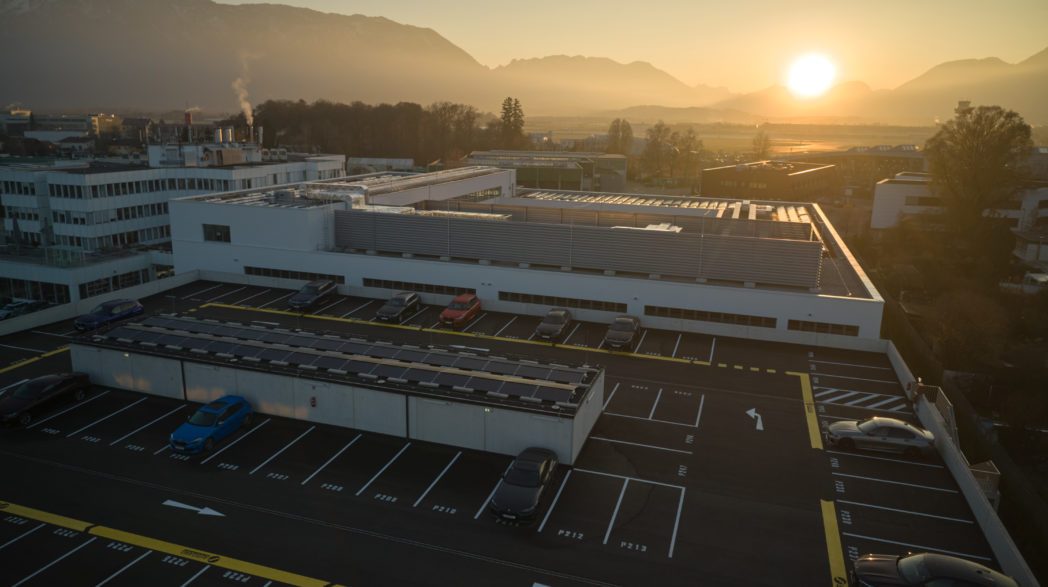 Two large buildings, suffused with light, with a green inner courtyard and associated parking areas, form the new BMW Group Campus in the city of Salzburg. What will really make the difference will ultimately be the 450 people who work there. At the moment it is still very quiet – because of Covid, only about ten percent of the workforce is on site. So the meeting place that the campus was planned to be will have to wait a little longer. However, the concept is already clearly evident: Work can take place in a variety of ways – people who need space away from the open-plan office can digitally book themselves into one of the many meeting rooms directly on site at any time. At 26 rooms, their number has more than doubled. Whether beanbags or bar tables, for four or alone – a room, a terrace or one of the many small lounge islands in the midst of the conventional office desks is always ready for any need.
Values as a point of attraction for professionals
For the BMW Group, this is part of the diversity it strives for. This is also confirmed by Egon Mutschlechner, who was responsible at BMW for monitoring work concepts and their implementation in the building: "Positioning towards sustainability is central to BMW. This includes ecological topics but also social ones, such as lived diversity." The fact that this campus exudes both is part of the concept. "We are all in a situation where we need to be attractive to skilled workers. This includes not only an attractive working environment, but also living values such as sustainability in many areas," Mutschlechner explains.
As far as ecology is concerned, the operators here rely on photovoltaics: a third of the energy comes from the roof and from the horizontal panels on the parking garage. That covers about a third of the campus's total electricity consumption. The CO2 savings that can be realised from that come to some 232 tonnes per year. In addition, a water recovery system was installed as part of the rebuild of the in-house car wash. Previously, 180 litres of drinking water were required for each vehicle wash – with the water treatment system, only 20–30 litres of drinking water are now required per new wash cycle.
Salzburg – a location with advantages
28 million euros were invested in the new 12,000 square meter building. The fact that this was done specifically in Salzburg comes as no surprise to Mutschlechner. "We have a good connection here to the Eastern European markets and to the Western markets. In addition, the company also wants to position itself with these values, and the environment also plays a major role. And there is this – Salzburg itself is not a big city, but it has the right connections to reach Munich or Vienna quickly as well. With Innovation Salzburg, we have a very competent point of contact that has also supported us, for example, with a funding strategy for these huge projects." In the "war for talents," life also plays a major role for employees: "The city and the region here offer a special quality of life. I came here from Italy ten years ago and started a family here. Designing life outside of work is a big plus for expats like me."
Education and Training as a core issue
Participants in the on-site training courses will also be able to enjoy Salzburg – at least temporarily. With 2,675 m2 of space, the new training centre is more than six times larger than the previous training area. Instead of 40 people, up to 150 attendees can be accommodated per day. These are employees of dealer partners from all twelve markets in the Central and Southeastern Europe region, in the areas of sales consulting, repair and maintenance, or service consulting. "Services related to mobility must be understood and the emotion and quality of BMW as a premium provider must be lived," explains Mutschlechner. So training – especially at the moment – is also necessary through digital means. The equipment for the trainers, cameras, technology and rooms were brought up to date for this purpose. In 'blended learning', personal on-site training and virtual course content complement one other, ensuring optimal learning success.
"We are very happy to have strong and innovative leading companies like the BMW Group in Salzburg, which have been consciously committed to the region for decades. Opening the new Campus Salzburg in the middle of the pandemic makes me hopeful that we will master the current tense situation together and that Salzburg will be sustainably strengthened as a business location," said State Governor Wilfried Haslauer on the occasion of the opening. Neil Fiorentinos, CEO of BMW Vertriebs GmbH, said: "The BMW Group location in Salzburg is a permanent fixture in the region. With the new building, we are opening the next chapter in that success story. The Salzburg Campus is a logical consequence of the outstanding work of the past decades." Incidentally, BMW milestones over these decades and their connection with major world events are captured in a work of art by Alexander Paradeiser in the large meeting room – once again demonstrating an eye for detail.
This might also interest you