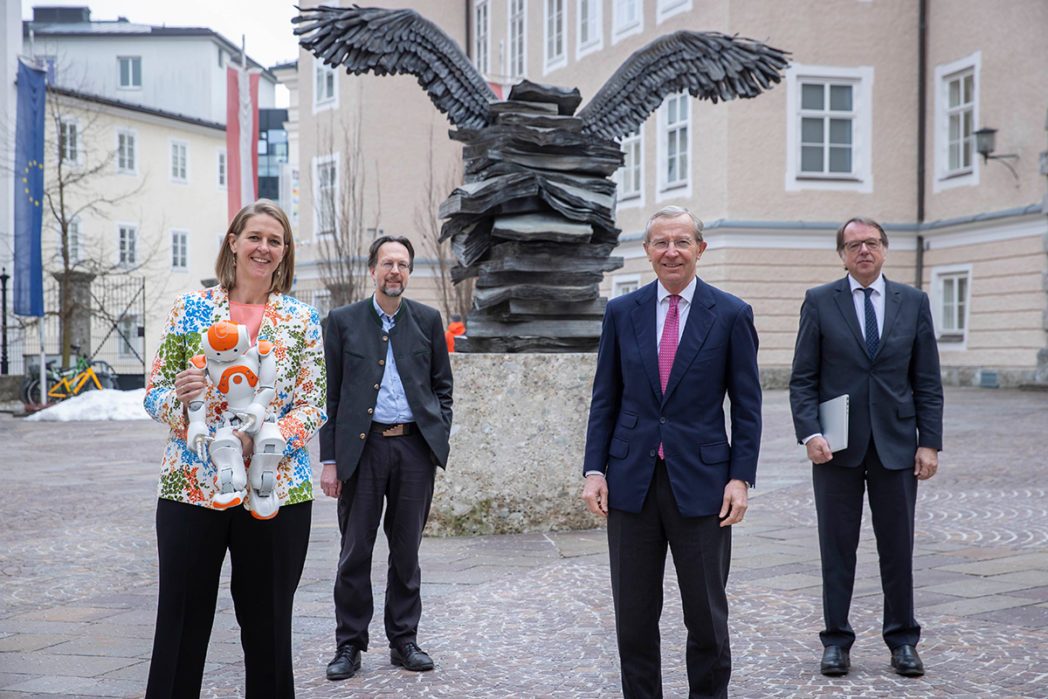 Salzburg's specialization in the field of digitalization is being expanded. With the WISS project "EXDIGIT – Excellence in Digital Sciences and Interdisciplinary Technologies," the state of Salzburg is investing around ten million euros in the new faculty. This will trigger a boost in research, innovation, and the development of skilled professionals in the field of digitalization.
"This project represents the largest individual investment to date within the research funding framework of the state of Salzburg. This underscores the importance of this initiative for our region," said Governor Wilfried Haslauer and State Councillor for Science Andrea Klambauer. "Digitalization affects all areas of our lives, and a scientifically sound approach to this subject is essential for society. Our cooperation opportunities with stakeholders from academia and the business world will be significantly expanded and enriched. The research location of Salzburg will be further strengthened," stated Hendrik Lehnert, the Rector of the University of Salzburg (PLUS).
The DAS as a unique feature
The composition of the new faculty, comprising the fields of
Artificial Intelligence (AI) & Human Interfaces,
Computer Science,
Geoinformatics,
and Mathematics
is already unique. They also aim to bridge the gap with the humanities, which have a strong presence in Salzburg, through the research topic of Digital Humanities. Arne Bathke, the Dean of the faculty, even refers to it as a "booster" for the location. This expansion will not only enhance specialization in the field of digitalization but also counteract the shortage of skilled professionals. After all, today's students are tomorrow's experts. Currently, there is a high demand for IT and Data Sciences professionals in Salzburg. Therefore, collaboration with the business sector is essential. The region is home to several companies considered hidden champions and world leaders in their respective fields. Through joint projects and programs, synergies will be created to encourage graduates to remain in the region. This benefits the entire Salzburg location. Rector Lehnert aims to reach 2,000 students in the medium term through the further expansion of study programs.
Joint Process of Innovation Salzburg and University of Salzburg (PLUS)
Innovation Salzburg has collaborated with the University of Salzburg (PLUS) over the past three years on the new faculty and the development of EXDIGIT. Now, they are working together to implement EXDIGIT. The faculty consolidates existing structures and recognized competencies within the university while also incorporating new areas in research and teaching. Starting in October 2022, the new Bachelor's program in Artificial Intelligence will be launched, followed by a Master's program at a later stage.
Overview of the new faculty:
4 departments: Artificial Intelligence & Human Interfaces (AIHI), Computer Science, Geoinformatics, and Mathematics
Around 140 staff members, including 40 professors and habilitated researchers, and 1,250 students
Additionally, through the state project EXDIGIT: 7 new professorships, establishment of a research college for 10 doctoral candidates and 6 postdocs, and 2 doctoral positions in collaboration with Salzburg Research
That might also interest you