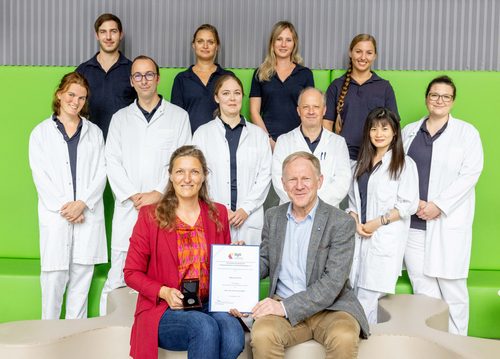 Great hopes are being placed worldwide in research with extracellular vesicles, which is considered one of the most important cell therapies of the future. The Good Manufacturing Practice Laboratory, abbreviated as GMP Laboratory Salzburg, is among the few academic-pharmaceutical institutions worldwide that can produce vesicles for administration to humans.
International institutions such as the biotech company Paracrine Therapeutics from Singapore collaborate with this centerpiece of the Center for Cross-Sectional and Tissue Regeneration. Salzburg plays an outstanding role in terms of equipment, expertise, and quality.
Vesicles – more than just "garbage"
Extracellular vesicles, long dismissed as the "garbage system" of cells, have an important communication function in the body: they transmit targeted information between cells, organs, and even between different organisms. Vesicles have potential as gatekeeper systems. Their role is particularly promising in regenerative medicine.
"It's like two soap bubbles merging with each other," explains Rohde. "The information thus reaches the target cell." Research groups from Essen, Hannover, and Salzburg, in addition to the GMP laboratory, play an important role. New therapeutics based on vesicles are being developed in a cleanroom environment.
A significant advantage of these tiny powerhouses is their volume, which is at a ratio of 1:3,000,000 compared to the cell. They have the ability to suppress inflammatory processes and reduce scar formation. This tremendous potential could be an important key, for example, in the healing of hearing implants in the inner ear.
You might also be interested in