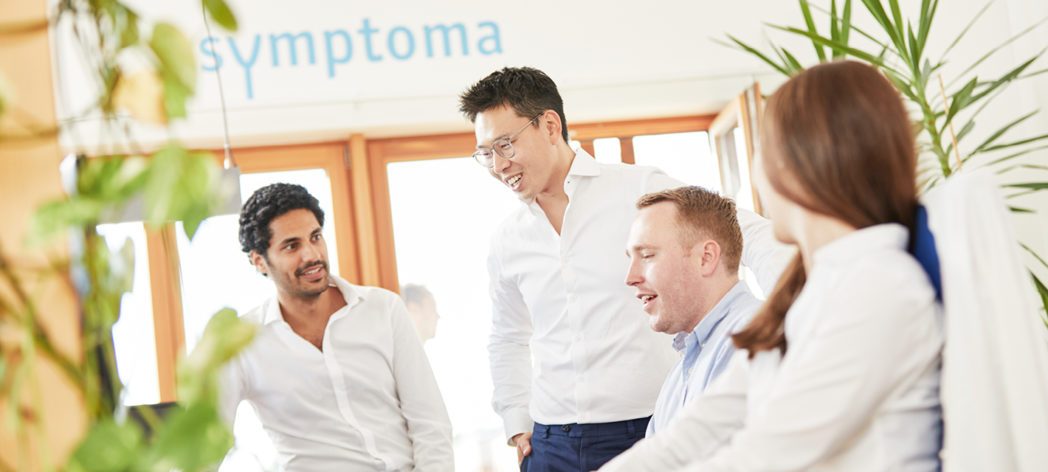 Even the best doctors are overwhelmed by the 20,000 known diseases – understandably so. At best, they are familiar with the symptoms of around 1,000 illnesses, so the correct diagnosis is not an easy undertaking. However, incorrect or late diagnoses can have life-threatening consequences for patients. If the right diagnosis were made in time, 1.5 million lives could be saved every year.
Symptoma has taken on this problem. The company based in Attersee, Salzburg, and Vienna has developed an intelligent database for doctors and is researching solutions to optimize the diagnosis process.
Medical information via chatbot
Fifteen years of research and development have gone into Symptoma's AI software algorithms. According to CEO Jama Nateqi, it is one of the world's largest disease databases. Numerous doctors use the AI, but patients can also access it. The use is simple: "Users enter symptoms. Our chatbot then automatically asks the right questions to better narrow down the possible cause or search. This works so well now that you can enter 'Tiramisu' as a search term, and the system will ask you about stomach pain and suggest salmonella as a possible cause." Ten million doctors and patients worldwide rely on Symptoma every month to research the causes of symptoms.
AI helps with Covid-19 risk detection
At the start of the COVID-19 pandemic, Symptoma adapted its symptom checker accordingly and trained the AI on COVID-19 symptoms. Users only need to answer the chatbot's questions and enter their symptoms. The symptom checker then indicates the likelihood of being infected with COVID-19 based on the symptoms. If desired, a COVID-19 test can also be arranged right away.
The company has thus developed the first AI worldwide that calculates personal COVID-19 risk and has also been certified as a medical device. Symptoma has been validated in several scientific studies (such as in Nature and JMIR) and tested in over 100 million tests worldwide in 36 different languages. One study demonstrated that Symptoma has the highest accuracy on the market for symptomatic COVID-19 cases, with a hit rate of 96.32%, making it more reliable than solutions from Apple or the Center for Disease Control in the US, for example.
In November 2020, Symptoma also started a cooperation with the city of Vienna. Right from the start, the symptom checker specifically for Vienna citizens processed a proud 1.5 million questions and answers within 24 hours. The digital option for assessing personal COVID-19 risk was well received by the Viennese. Symptoma, or rather its CEO Jama Nateqi, also achieved another success: He was recently voted Austrian of the Year 2020 in the research category by the newspaper "Die Presse".
This might also interest you