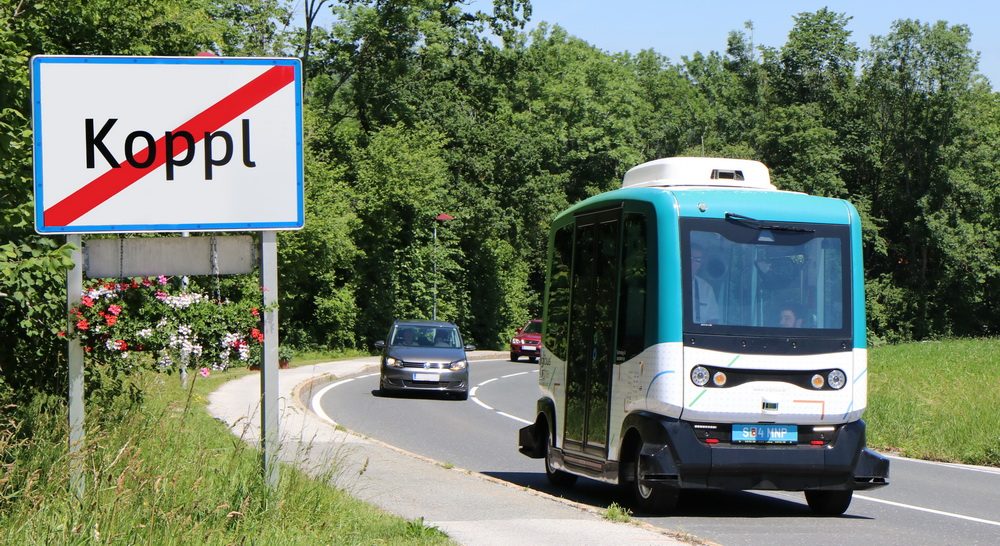 The new technologies developed by domestic companies contribute to passenger communication and improved positioning accuracy, and are now being scientifically tested in real-world operations.
In the Austrian flagship project "Digibus® Austria," a high-profile consortium led by Salzburg Research is researching and testing the reliable and safe operation of automated minibusses in public transportation. The autonomy and driving safety of autonomous vehicles are being further enhanced, with a focus on measures related to vehicle-to-vehicle communication and technical infrastructure.
In the municipality of Koppl, located in Salzburg, an ITS G5 infrastructure by Kapsch TrafficCom was installed for the first time in Austria outside of highways or cities for the testing of automated driving. The European standard ITS G5 (5.9 GHz) enables extensive traffic networking (V2X – Vehicle-to-everything). With the help of V2X, vehicles and traffic infrastructure can now communicate with each other and exchange data. The V2X 5.9 GHz on-board unit by Kapsch TrafficCom in the automated Digibus® transmits messages up to 10 times per second. In the Digibus® Austria flagship project, the transmission of correction data for highly accurate satellite positioning is being tested via ITS-G5. The Digibus® utilizes this correction data to compensate for errors in satellite signals, enabling centimeter-level positioning accuracy.
Another technological innovation in the bus focuses on passenger communication. Commend International, in collaboration with the consortium, is investigating the information and interaction needs of passengers in an autonomous vehicle. In the Digibus® and in the town center of Koppl, communication points have been installed, allowing passengers to make inquiries or report issues. Currently, the inquiries are forwarded to a control center, but in the future, simple and recurring inquiries could be answered using chatbots.
Flagship project "Digibus® Austria"
The flagship project "Digibus® Austria" runs until March 2021 and is funded by the Federal Ministry of Transport, Innovation and Technology as part of the research program "Mobility of the Future." Salzburg Research coordinates a high-profile partner consortium, consisting of leading companies and research institutes along the entire value chain of public transportation, from vehicle providers to mobility service providers, who contribute to the project's outcomes.
Research partners: Salzburg Research (project coordination), Virtual Vehicle Research Center, AIT Austrian Institute of Technology GmbH, University of Salzburg – Center for Human-Computer Interaction, University of Natural Resources and Life Sciences – Institute of Transportation, apptec ventures GmbH.
Corporate partners: Kapsch TrafficCom AG, PRISMA solutions EDV-Dienstleistungen GmbH, Commend International GmbH, Fluidtime Data Services GmbH, HERRY Consult GmbH, ÖBB-Holding AG, EasyMile SAS.
Associated partners: State of Salzburg, State of Lower Austria, ÖAMTC Fahrtechnik GmbH, A1 Telekom Austria AG.
This might also interest you