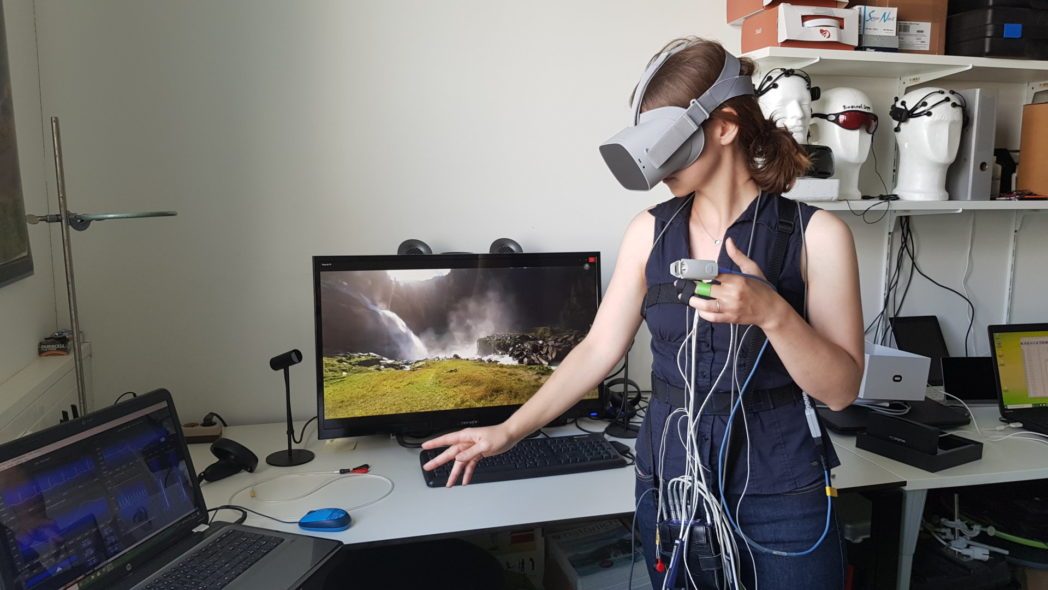 Anyone who has ever stood there, felt the fine mist on their face, and heard the roaring water will probably not be surprised that the Krimml Waterfalls can offer more than just a natural experience. They have been proven to have healing effects by the University Institute for Ecomedicine at Paracelsus Medical University Salzburg (PMU). Arnulf Hartl, the head of the university institute, aims to replicate these effects through virtual reality in a joint research project with FH Salzburg and make them accessible to patients at home.
"Chronic lung diseases such as asthma and COPD are associated with a high level of suffering for the affected individuals. Being able to do something against these chronic diseases in the home environment, especially during winter when the waterfalls in Krimml are frozen, is a major goal of this project. One in five Austrians over the age of 40 has COPD, and 11% of children and adolescents in Austria have asthma," says Hartl. The researchers aim to capture the healing power of the waterfalls in a virtual reality breathing therapy exergame and make it accessible to patients who cannot visit the Hohe Tauern National Park due to their conditions.
Proper breathing through gamification
The technology behind the exergames can capture and reproduce the body movements and breathing of the "players." As a result, the patient can receive self-improving feedback from a virtual breathing therapist, an avatar. In the virtual environment of the waterfalls, professional breathing exercises can be learned and practiced. "For this, we receive support from Martin Dürl, a professor of physiotherapy at FH Salzburg," says Hartl. "He is the avatar in this project and will demonstrate breathing physiotherapy in the virtual environment. The patients should mimic the exercises, and depending on how well they perform, they will be digitally rewarded or asked to repeat them. The application provides feedback to allow patients to improve themselves." The home therapy should be medically applicable within three years.
In virtual reality, the physioacoustic impression can be replicated particularly well. The team from the Multimedia Technology degree program at FH Salzburg records sounds and images on-site. The image information is used to calculate a digital open-world scenario in which the user can freely move around.
"We want to create a 3D environment that looks as realistic as possible," says Markus Tatzgern, head of the Game Development and Mixed Reality department at Multimedia Technology. Big data analysis of the acquired data is also an important aspect for the researchers.
"By using new digital tools such as Big Data or Machine Learning, we can derive better methods. For example, we can analyze patterns to determine which respiratory exercises work best," says Hartl. Currently, six researchers are working on the project, including Carina Grafetstätter, the operational manager for PMU, and Hilmar Linder, head of the Multimedia Technology degree program at FH Salzburg.
Collaborative Project
The entire technological process in this ICT project is continuously accompanied by clinical studies at PMU to develop Virtual Reality Exergames that are medically effective. The first of these studies is currently providing extensive basic information, such as which natural elements work particularly well in virtual reality, the level of immersion required in virtual reality, or the health effects that can be derived. "This cooperative project was made possible through the ICT and research strategy of the state. The work of Innovation Salzburg has also played a significant role in enabling us to conduct joint research," says Tatzgern.
The tools developed in the project and the joint Virtual Reality Physiology Lab of PMU and FH will also be used for future industry-related projects. "Measuring physiological reactions to stimuli in virtual reality is a promising innovative method for testing the effects of products on humans at an early stage of development. Virtual prototypes tailored to individuals are evaluated quickly and cost-effectively, thereby reducing time-to-market. An example of this would be health-promoting architecture designed to reduce stress and enhance mood," says Hartl.
This might also interest you