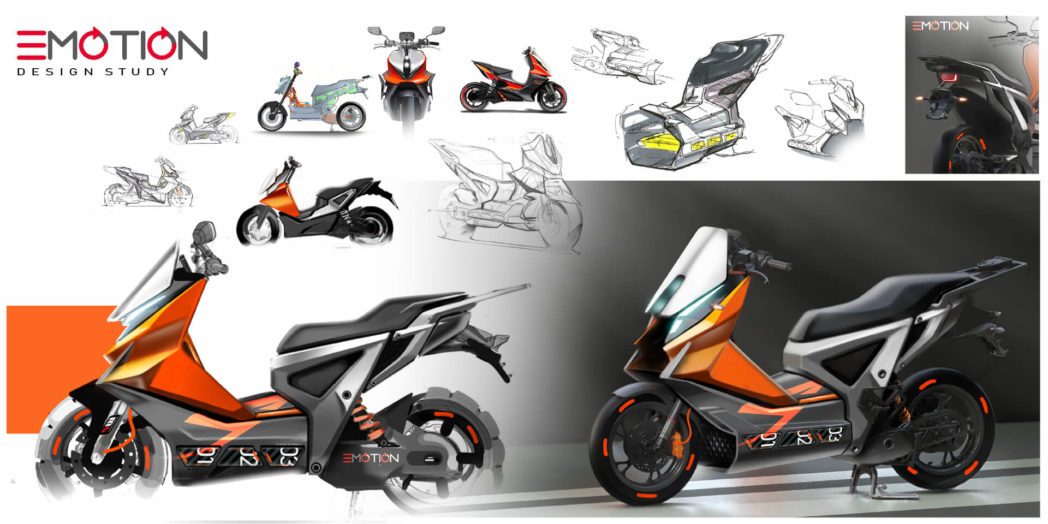 Although the mobility and thus the emission of climate-damaging CO2 worldwide decreased by around seven percent due to the Corona crisis, a sharp increase in emissions is likely to occur soon. However, by 2030, one to two billion tons of CO2 should be saved globally every year to achieve the Paris climate targets and slow down climate change. The transport sector has a significant contribution to make to this goal, and electric mobility can and will be part of the solution.
New E-bike as a green mobility alternative
The Austrian flagship project "EMotion – Electric Mobility in L-Category Vehicles for all Generations" aims to design an innovative and user-friendly mobility solution on two wheels and implement it as a prototype. Especially in urban areas, clean, energy-efficient, and cost-effective electric two-wheelers could make a decisive contribution to the mobility transition. Since the intended vehicles are primarily used in urban areas, a significant reduction in CO2 is expected there.
For more than a year, research has been carried out on the development of an electrically powered category L two-wheeler, specifically for the younger (16-18 years) and older (50+) generation. This cost-effective, energy-efficient, and comfortable vehicle should provide users of conventional combustion engine transport means with a usable and environmentally friendly alternative with a reduced ecological footprint for their everyday mobility needs.
International study on needs
Together with the Würzburg Institute of Traffic Sciences, Salzburg Research conducted a survey last year on the needs and acceptance of users regarding these new electric two-wheelers and their associated potential. This study takes a look into the future of sustainable mobility by expanding the knowledge of the mobility behavior with two-wheelers (such as mopeds and motorcycles) in Europe and investigating the factors for the acceptance of e-bikes for a European market. To enable e-bikes to contribute to more sustainable mobility, potential customer requirements were identified.
Overall, 432 participants mainly from Germany, Italy, Austria, and Sweden took part in the online survey. The results show that in Europe, the two-wheeler is mainly used for leisure activities. However, reasons that go beyond the use of two-wheelers as a leisure activity, such as cheaper maintenance and more convenient parking, still received high importance ratings in the survey. The strong, but not exclusive, focus on the use of two-wheelers as a leisure activity differs from Asian countries, where two-wheelers are mainly used for commuting and daily errands.
Overall, the participants were skeptical about the range of e-bikes. Nevertheless, a high proportion of trips could be easily covered with the currently available battery capacity. However, this fact does not seem to be aware of the participants. The environmental friendliness of e-bikes was also questioned – an aspect that requires more communication if cities are to move towards more sustainable mobility concepts, including e-bikes.
Eight-month field test 2022
As part of the research work, a prototype will be developed by the participating project partners, which will subsequently be tested in an eight-month field test. Salzburg Research will organize and evaluate this field test, in which users will test the newly developed bicycles and their potential will be determined. This field test is planned for 2022. The platform Flow Motion developed by Salzburg Research serves as the basis for the collection and analysis of the data generated during the field test.
The concept pursued in EMotion is based on an extensive portfolio of technological solutions in the areas of innovative lightweight construction and component arrangement, highly efficient electric drive and charging components, and usability. The project partners are pursuing three goals in particular:
A significantly more efficient use of resources compared to currently available and comparable vehicles,
Lightweight construction for excellent driving performance, and
An innovative, user-centered human-machine interface with an integrated information system. This is intended to provide users with a completely new mobility experience.
EMotion is funded by the Climate and Energy Fund (KLIEN) in cooperation with the Federal Ministry for Climate Protection, Environment, Energy, Mobility, Innovation and Technology (BMK) as part of the 2nd call for "Zero Emission Mobility".
This might also interest you