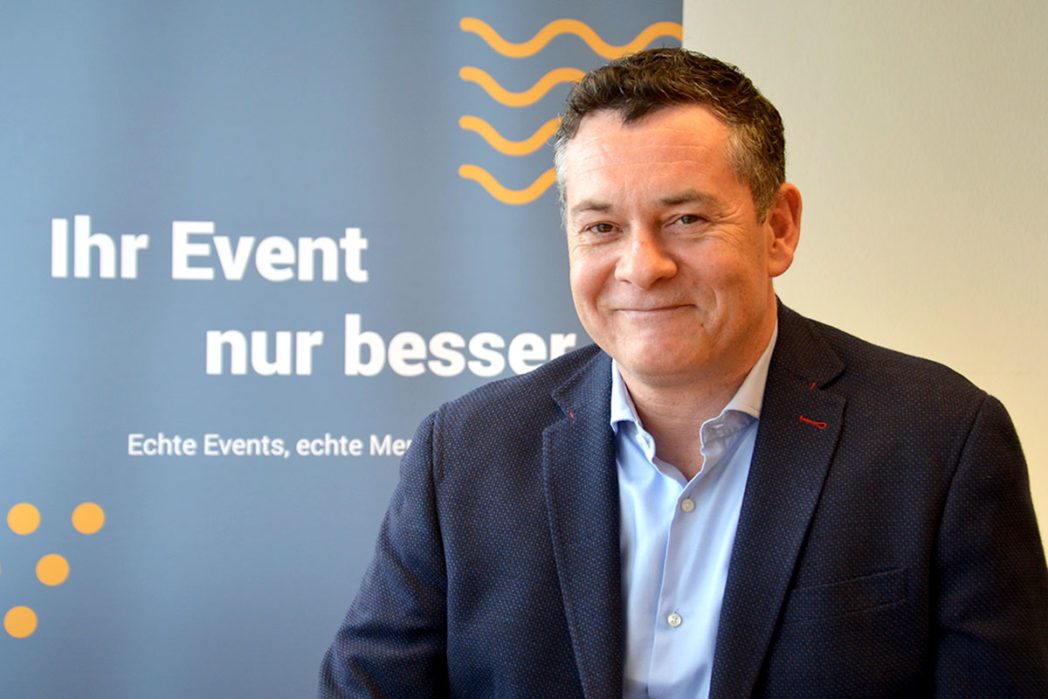 Where one used to have to tear off paper tickets, check guest lists, and so on, and produce a lot of waste in the process, "mobile first" is now the order of the day. After all, almost everyone now has their smartphone with them at all times.
Best practice from Eugendorf
mtms Solutions from Eugendorf shows how contemporary ticketing and accreditation management works today. The key to this is digitization. "Our products are designed to enable digitization for our customers," says Gerald Eigenstuhler, CEO of mtms Solutions. The company specializes in telecommunications (SMS delivery for large customers such as banks and authorities), messenger communication (for companies to communicate with customers via WhatsApp, Telegram, Signal or Facebook Messenger) and event management with ticketing and accreditation (access authorization). In all business areas, "mobile first" applies, which means that function and presentation have priority on mobile devices.
Scalable, independent, and environmentally friendly
From a Bundesliga game to the annual festival of the local brass band: digitization enables event management in different sizes. Regardless of the size of the event, the underlying problems are usually the same: How many guests are coming? Who is allowed to enter which areas? Who wants to eat what? Event organizers have to deal with these and many more questions. The digitized processing of ticketing and accreditation makes the product scalable and mtms Solutions can also offer it to the small brass band at an attractive price. Online ticket sales make event organizers independent of external ticket offices and provide planning security. This means that catering and much more can be organized, as event organizers know exactly when and how many people are coming or who is allowed in the VIP area.
Digitization also promotes the environmental friendliness of events. The trend is clearly moving away from sending tickets by mail towards digital tickets or the print-at-home option. This saves labor, paper, and fuel. In the accreditation area, it is common to identify oneself with plastic cards hanging around the neck. Here too, mtms Solutions is taking new paths by using cards made of bioplastic, wax paper, or as reusable badges with E-Ink (electronic ink). The latter is currently only known from price labeling in German supermarkets or electronics stores, for example. "It's basically like a small screen that doesn't consume any power during normal operation and is equipped with electronic ink," explains Gerald Eigenstuhler, describing the innovative E-Ink badges that nobody has used for events yet.
Leading through funding
Bringing such innovations to the market requires a sense for new trends and the willingness to take a further step forward in development. For this, funding is important, as it provides the company with the security to significantly expand a product. With the help of the state funding program "DigiInvest," mtms Solutions digitized their billing center and received an ERP loan and liability guarantee from aws (Austria Wirtschaftsservice) for the acquisition of a competitor. Gerald Eigenstuhler feels well taken care of by the experts at Innovation Salzburg: "Salzburg has the advantage with Innovation Salzburg that information and advice on state and federal funding are provided equally. Such an institution does not exist in all federal states. Not only did the support with the application process help us a lot, but also the practical support and proactive tips from our advisors towards certain funding opportunities, up to the establishment of contacts."
Covid-19 impacts event market
Events are heavily affected by the current pandemic and are being canceled across the board. This naturally also affects the Eugendorf company. "It is an extreme burden for us, similar to hotels. For us, it has proven beneficial to have multiple business areas that interlock, but are independent of each other," reports Gerald Eigenstuhler, "especially in this situation, we work together and support our organizers where we can." Even though all events are now canceled, they will take place again after the restrictions are lifted. "I recommend preparing for this time now and testing new digital tools to start fresh and digitized after the crisis," advises Gerald Eigenstuhler.
Digital registration for catering establishments as a Covid measure
As part of the Covid measures, a new market has opened up for mtms – digital guest registration for catering establishments. The Digital Guestbook by mtms Solutions has proven to be the ideal solution for the regions and is already in use in over 7,500 establishments in Vorarlberg, Tyrol, and Salzburg, as well as in public facilities and sports clubs. Gerald Eigenstuhler, Managing Director of mtms Solutions GmbH in Eugendorf, praises the regional and cross-state cooperation: "It is gratifying to see how tourism associations are working together across borders in times of crisis to find common solutions that are quickly implemented with the authorities of the federal states."
For those responsible in the tourism regions, it is essential to respond quickly with a proven and practical solution to the registration obligation. On the one hand, the continuation of operations must be ensured, and on the other hand, uniform registration is a signal to tourists that contact tracing works flawlessly and has a high priority for the region.
By using the Digital Guestbook by mtms Solutions, restaurateurs are almost completely relieved of bureaucratic efforts and paper chaos. Only a QR code needs to be placed in the establishment, allowing guests to register easily.
Upon entering the establishment, the guest scans the QR code and chooses whether to register via WhatsApp, SMS, or call. Sending a pre-formulated message registers the guest in the guestbook. The great advantage: all phone numbers are verified, so there can be no false information. If the guest cannot scan the QR code, there is the option to register by phone or via the website. The provider mtms Solutions from Eugendorf takes care of everything else. mtms also ensures GDPR-compliant data storage and communication with the health authorities.
This might also interest you