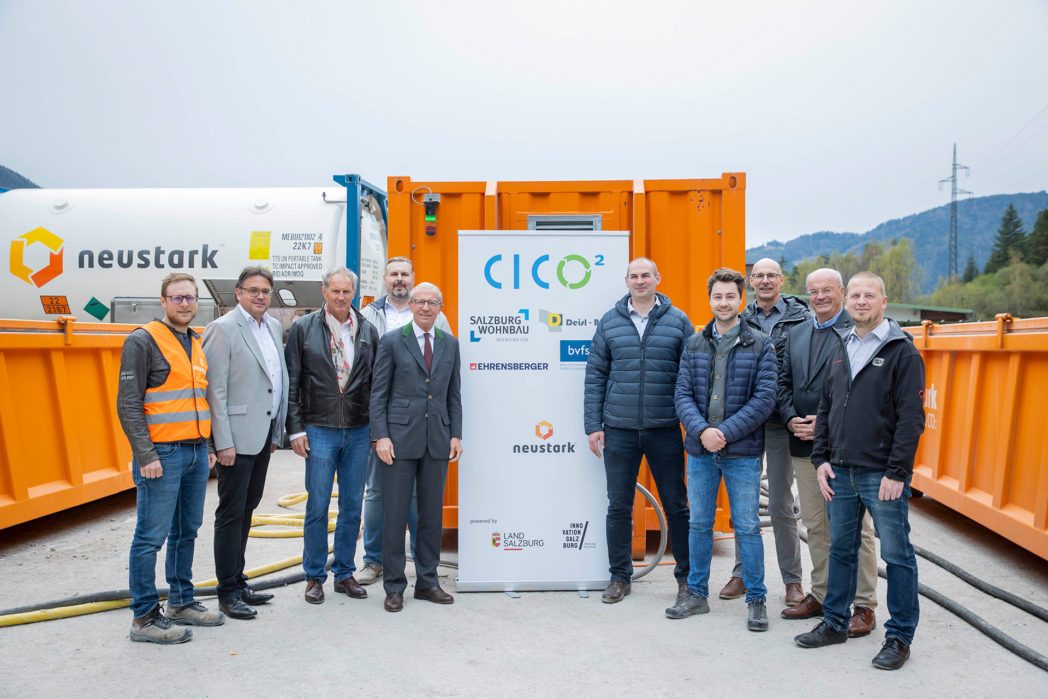 Concrete as a building material has a long tradition in Salzburg. The raw material is geographically abundant and many cement and concrete companies are located in the state. Today, many of the existing buildings in Salzburg are increasingly reaching the age where they need to be renovated or demolished. Through the development of concrete recycling concepts, demolition waste can be returned to higher material cycles. This is in line with the circular economy and contributes to climate-neutral construction. At the same time, it is possible to reduce the high CO2 emissions in the construction sector, in cement production, and concrete manufacturing by binding CO2 in concrete. While these processes already exist, they are hardly tested in local practice. Currently, recycled concrete (RC concrete) is only used in Austria in isolated cases.
Salzburg as a pioneer in the use of RC concrete
In recent times, the state of Salzburg has provided strong impulses for the use of RC concrete, including various research and development projects and its own pilot project ("CICO"). This project is funded by the state as part of the Science and Innovation Strategy (WISS) and researches the production of RC concrete. Now, with the start of the research project "CO2 max", the next stage follows: the project focuses on the binding of CO2 in RC concrete for the first time in Salzburg (and all of Austria). So far, similar CO2 pilot projects only exist in Switzerland, and there are already some tests in Germany. Thus, Salzburg is a pioneer throughout Austria.
RC concrete is injected with CO2
In the "CO2 max" field trial, the new technology for CO2 injection and binding in the production process for RC concrete is being tested for the first time in Salzburg using a mobile demonstration plant. The CO2 mineralization process was developed at ETH Zurich or by the spin-off start-up Neustark, which is being applied and researched in the concrete recycling plant in Salzburg-Sulzau. The specific regional and chemical composition of the rock, the established process technology for concrete preparation, and the regional concrete formulations are examined to determine how they lead to the new product of "climate-neutral RC concrete". Additionally, the CO2 generated from biogenic sources, such as pulp production or wastewater treatment plants, is sustainably bound to actively reduce CO2. The binding of CO2 in RC concrete contributes to the European Green Deal, which aims to make the EU climate-neutral by 2050. This is because the construction sector is responsible for more than one-third of global CO2 emissions, with approximately eight percent of these emissions arising from the use of concrete. At the press conference on Friday, April 22, 2022, the Neustark plant for enriching RC concrete with CO2 was ceremoniously put into operation.
These are the companies behind CO2 max
That might be interesting for you